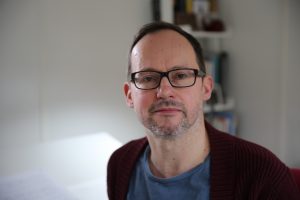 David Sawer studied music at the University of York and subsequently won a DAAD scholarship to study in Cologne with Mauricio Kagel. In 1992 he was awarded the Fulbright-Chester-Schirmer Fellowship in Composition. A Paul Hamlyn Foundation Award followed in 1993 and, in 1995, the Arts Foundation's Composer Fellowship. In 1996 he was composer-in-association with the Bournemouth Orchestras; in 2006 he was awarded a Civitella Ranieri Fellowship.
The 1990s saw a succession of important commissions. Byrnan Wood, his first large-scale orchestral piece, was premiered at the Proms and recorded on the NMC label by the BBC Symphony Orchestra with Andrew Davis. The Trumpet Concerto received its first performance from the same orchestra in 1995, and in 1997 the BBC National Orchestra of Wales gave the world and London premières of the greatest happiness principleat St David's Hall, Cardiff, and the Proms respectively. Tiroirs, commissioned by the Michael Vyner Trust for the London Sinfonietta, has been performed throughout Europe, in the USA and at the 1998 ISCM World Music Days.
Drama, or a fascination with theatrical possibilities, is present in many of his works. His radio composition Swansong, a commentary in words and music on a short story by Hector Berlioz, won a Sony Award in 1990. In Byrnan Wood, the image from Macbeth of Malcolm's disguised army advancing on Dunsinane provided an initial abstract idea – sound transforming itself as it moves through the orchestra. Cat's-eyewas choreographed by Richard Alston for Ballet Rambert and Hollywood Extra, written for the Matrix Ensemble to accompany an expressionist silent film, was taken on a Contemporary Music Network Tour by the Asko Ensemble. From Morning to Midnight, a full-length opera commissioned by English National Opera, premiered at the London Coliseum in 2001, and for which he received a Laurence Olivier Award nomination for Outstanding Achievement in Opera.
Sawer's operetta Skin Deep, written to a libretto by comedian Armando Iannucci, was premièred in 2009 by Opera North, with performances in Leeds, London, Salford, Newcastle, Glasgow and Bregenz and by the Royal Danish Opera in Copenhagen. In the same year, Rumpelstiltskin, a ballet for dancers and ensemble, was premièred by the Birmingham Contemporary Music Group, touring to Glasgow and the Huddersfield and Spitalfields Festivals.
As part of the celebrations for Queen Elisabeth II's Diamond Jubilee, Sawer's new choral work, Wonder,was performed in York Minster in June 2012. Flesh and Blood, for two voices and orchestra, received its world première by the BBC Symphony Orchestra in February 2013. The Birmingham Contemporary Music Group gave the world première of the Rumpelstiltskin Suite at the Wigmore Hall in April 2013. Sawer's The Lighthouse Keepers for two actors, ensemble and tape was premièred by the BCMG under Martyn Brabbins on 4/7/2013 in Cheltenham.