NMC Recordings – 2023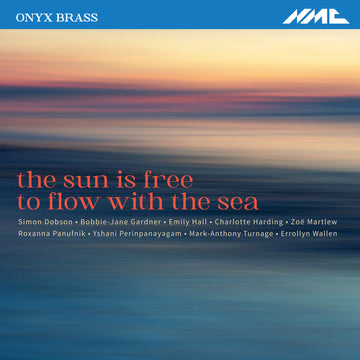 "The performances all sound first rate"

Guy Rickards, Gramophone Magazine
"What superb musicians they are"

Sarah Walker, BBC Radio 3
"Pyrotechnical feats of performance"

Christopher Thomas, Brass Band World
"Not just awesome chops and feel, but an ability to sound like so much more than merely five brass instruments. Altogether, it is an outstanding achievement."

Anne Templer, BBC Music Magazine
This new album, The sun is free to flow with the sea, perfectly epitomises Onyx and their values, as a compendium of new music written specially for the quintet by some of the most renowned composers working today.
Some works on the album have roots in conversations that took place more than a decade ago, such as Mark-Anthony Turnage's groovy but majestic ONYX30, and Errollyn Wallen's angular, profound ONYX. Other works owe their inception to much more recent events, like Roxanna Panufnik's early lockdown project, Fanfare for Broadway Tower, commissioned by Onyx trumpeter Alan Thomas who asked composers to write music inspired by a location that he could easily run or cycle to with his trumpet.
Charlotte Harding takes inspiration from architecture for her jagged Rhombus, while Emily Hall found her stimuli in poems by Arthur Rimbaud. Other composers were inspired by much more personal happenings, such as Yshani Perinpanayagam whose emotive Music for My Stolen Breath is built from transcriptions she made of her breathing rhythms whilst experiencing trauma in response to a racist attack in her place of work. She describes the piece as having a "climactic catharsis dissolving into a tiny green shoot of hope". Zoë Martlew's mischievous Kiss, Kiss has the players doing just that as they play with assorted percussive and vocal effects, such as blowing kisses, down their instruments.
Full track list:
Roxanna Panufnik Fanfare for Broadway Tower
Zoë Martlew Kiss, Kiss
Mark-Anthony Turnage ONYX30
Yshani Perinpanayagam Music for My Stolen Breath
Errolyn Wallen ONYX
Charlotte Harding Rhombus
Simon Dobson Brass Quintet No. 1
Bobbie-Jane Gardner Up on the toes (the slippery stair dance)
Emily Hall Blackcurrant River
Emily Hall Eternity