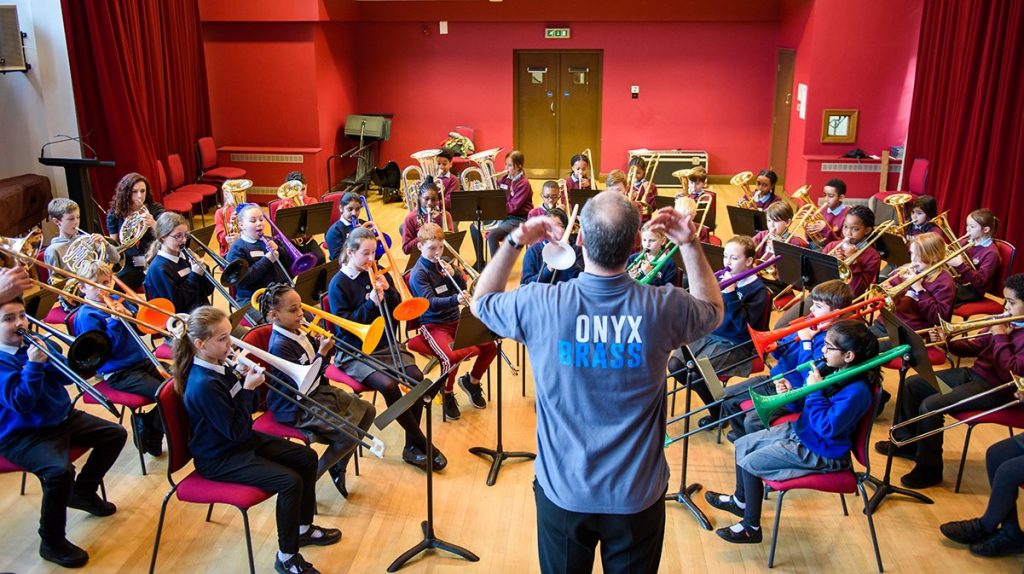 "The Oynx Brass players were really good teachers and nice to play with"

Theo, Year 5
Wherever their recital work takes the ensemble, a commitment to schools and education goes with them. A typical day sees the group giving a number of short schools concerts or workshops, followed by an evening recital. We have carried out days like this at numerous schools including Eton College, St. Paul's Girls School, Ardingley College, Bradfield College, Sherborne School, Radley College (former ensemble-in-residence), Westminster Abbey Choir School (former ensemble-in-residence), Bryanston School, Millfield College and secondary and primary schools across the UK. Onyx has also visited Junior Departments of the Royal College Of Music and The Royal Academy of Music as well as given a masterclass to the brass players of the National Youth Orchestra of Great Britain.
Primary
Onyx has three primary specific activities that we can bring to one or more schools at a time.
First of all, we have commissioned two pieces for primary school children's choir called A Sporting Chance and Opening Night. Written by Bob Chilcott and Tim Jackson respectively, each movement of the piece has a funny and/or thought provoking theme using sport or performance as inspiration. They include a weightlifting tuba player sprinting trumpets, an accident prone magician and a school teacher who just wants to sing the Beatles! Along with children's choir, an optional set of dancers and actors from the school may participate if they so wish. The whole day is then directed by an highly experienced animateur and will include a performance to parents at the end of the day. An introduction to brass instruments is included as part of this package.
Secondly, we run a structured day designed to tag on to a Wider Opportunities programme or similar where beginner brass players join in and play alongside the quintet. Originally designed for the Jackdaws Music Education Trust, the children spend the time with the group rehearsing then performing pieces like The Overture to William Tell (the Lone Ranger theme) and an introduction to jazz with Duke Ellington's C Jam Blues with optional improvisation.
Thirdly, we also of course offer short demonstration performances of around 45 to 60 minutes suitable for all children from nursery up to year 6. We are keen to help schools and music hubs to recruit new brass players so a passion for our instruments is the message we portray as well as lots of fun, games and exercises to help get the message across.
"I enjoyed being part of a big brass band and loved having fun playing altogether"

Chloe, Year 6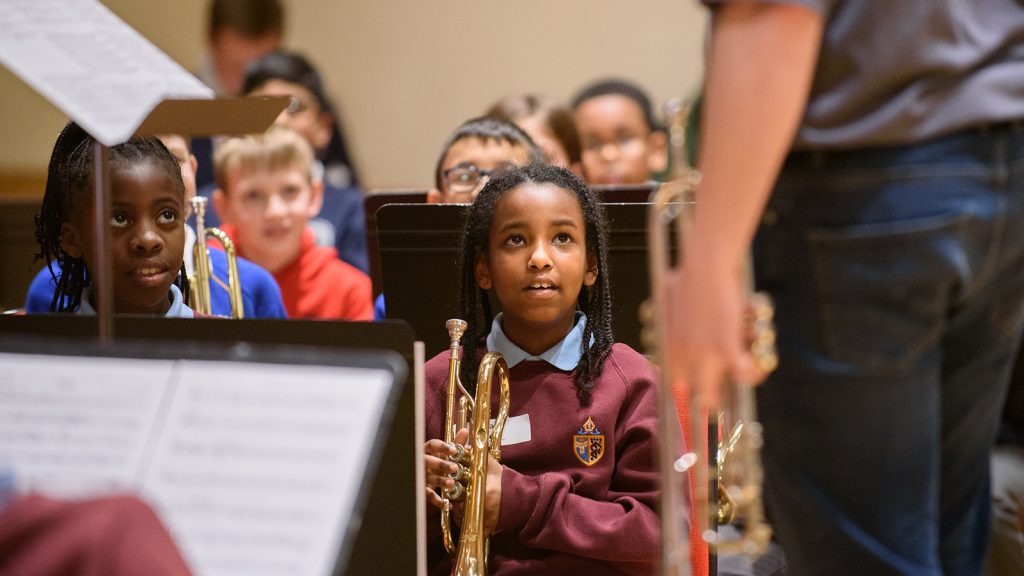 Secondary
The group offers coaching primarily to the school brass players with the hope of performing side-by side with the students in a feature concert of the day. This can be of hugely inspirational, and educational value as well as an excellent confidence builder – as the musicians are playing and learning alongside a professional whilst the music is taking shape. We have a variety of different larger-scale pieces in order to suit the differing standards and abilities of school brass players.

A large portion of these schools ask us to run inconjunction with a "Prep/Primary School Outreach day" where local junior schools are invited to send their young brass players for a full day of Onyx fun where they get to experience the facilities and grandeur of a big secondary school. These days have had some excellent feedback over the years as well as boosted brass recruitment in the secondary schools.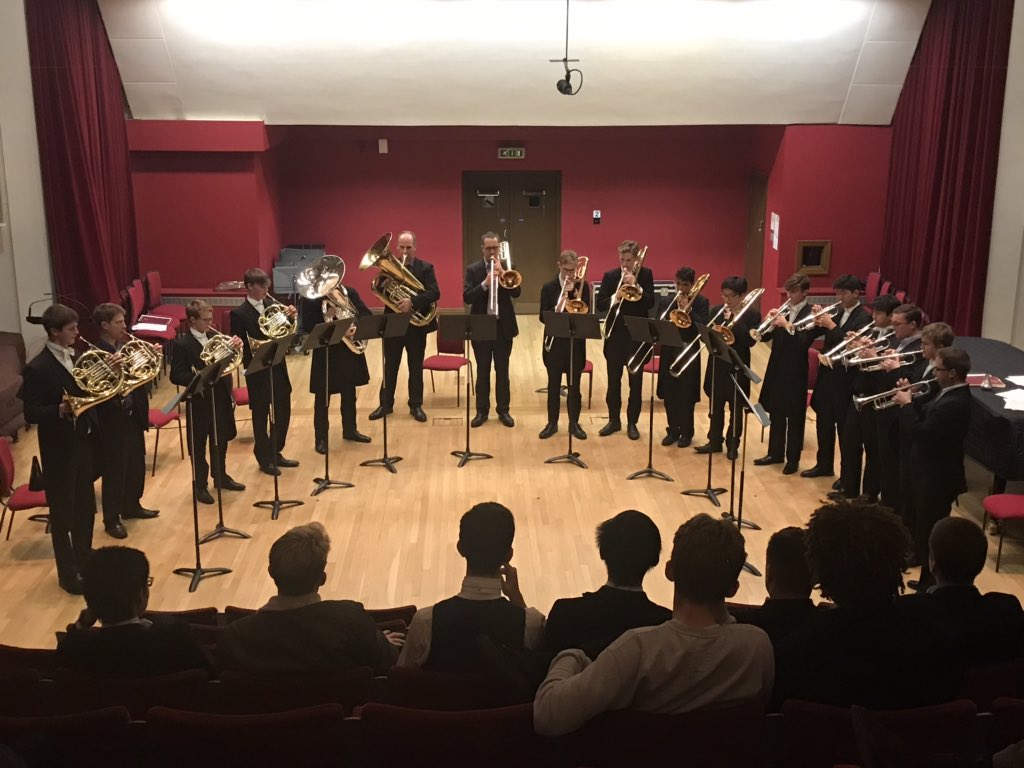 Further Education
Onyx Brass are also very active and experienced in the field of music education at Music Colleges, Universities and Colleges of Further Education, having conducted workshops and master classes for a huge range of students across the world. In Britain, they have directed educational projects at places such as the Guildhall School of Music and Drama, the Royal Scottish Academy of Music and Drama, the Royal Birmingham Conservatoire, the Royal Welsh College of Music and Drama, and the Universities of Newcastle and Southampton. International highlights have been visits to host masterclasses for students at The Julliard School, New York, The Boston Conservatory, The University of Washington and the Lisbon Conservatoire. The success of these sessions can been seen from the comments on the press page.
For details on the contents of a possible Onyx educational visit please contact us.