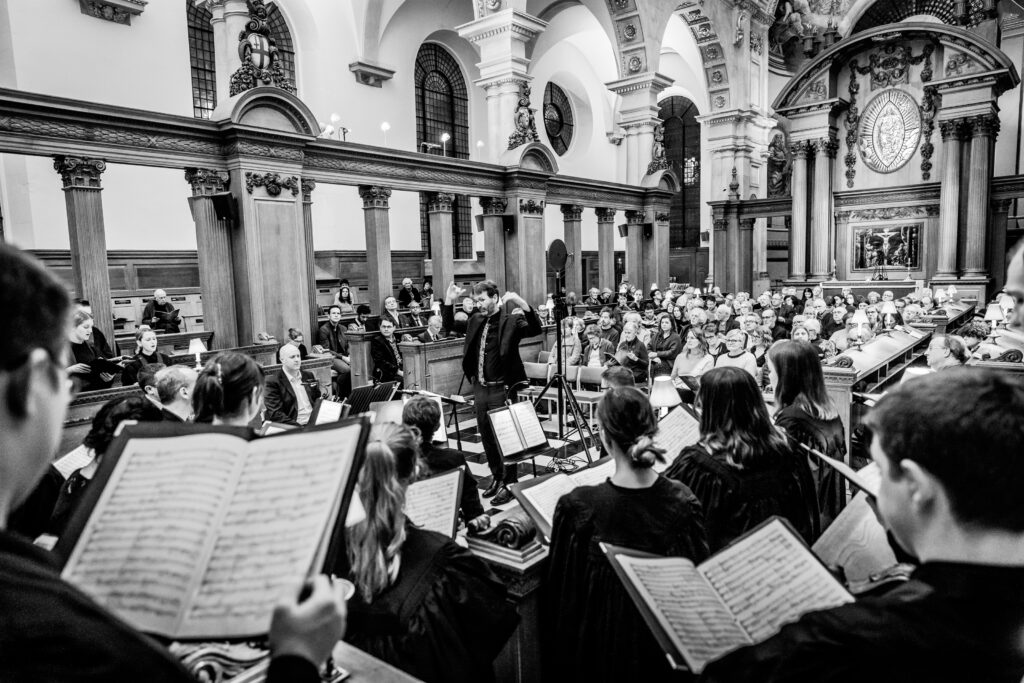 Choirs
Since 2001, Onyx Brass have focussed a lot more intently on repertoire for brass and choir. This is mainly due to their hugely beneficial partnership with the John Armitage Memorial charity. This organization promotes between two and five concerts a year which are held in churches and halls across the country. The programme is always based around a major commission and then supported by submitted entries from composers yet to break in to the mainstream. These are then assessed and selected by a panel of distinguished composers and musicians. In the past, Jonathan Dove, John McCabe, Thea Musgrave, Paul Patterson, Judith Bingham, Tarik O'Regan and many others composing the featured commission. The concerts involve the BBC Singers and the choir of Selwyn College, Cambridge. Onyx are very proud to be part of an organization which fosters new compositional talent as well as commission major works for brass, organ and choir each year from established composers.
For more information go to www.jamconcert.org
Alongside this successful collaboration, the ensemble has performed and recorded with many other prestigious vocal ensembles such as the Choir of Westminster Abbey and Winchester Cathedral in the recordings of works by Parry and Christmas music respectively, the Choir of St. David's Cathedral, Brighton Festival Chorus, Chapel Choir of Eton College, Laudate, and the Choir of St Brides, Additionally, the music of John Rutter explores the repertoire for brass and choir with great success and Onyx has regularly accompanied choirs and choral societies in performances of his Gloria. Should promoters be in need of more brass/choir repertoire to draw on, the group has numerous other dazzling works ranging from renaissance masterpieces to contemporary commissions in its repertoire.
Testimonials from Conductors and Choral directors:
"I have been lucky enough to work with Onyx Brass on many occassions with the John Armitage Memorial (JAM) organisation for new choral work. It is always a total pleasure. Their commitment to the music, enthusiasm for new compositions, professional yet always relaxed and supportive approach is exemplary. They make ideal choral partners and I am looking forward to many future concerts with them"

Nicholas Cleobury – BBC Singers, Selwyn College (John Armitage Memorial)
"Laudate has worked with Onyx Brass on a number of occasions and without exception, every time has been a very positive experience. Their outstanding musicianship, coupled with their very personable manner makes rehearsing together a pleasure. Onyx Brass have a genuine understanding and empathy with the workings of a choir and their sensitivity towards the singers, especially in matters of balance and blend, are to be commended."

Howard Ionascu – Laudate choir, Winchester College Quiristers, Exeter Philharmonic Choir
"They are a superb group of players. They were a joy to work with and, of course, totally reliable in every way as well as being wonderfully sensitive and constantly aware of balance in their accompanying of the Windsor and Eton Choral Society"

Ralph Allwood – Rodolfus Choir, Windsor and Eton Choral Society, Eton Chapel Choir
"Onyx Brass are a slick, versatile ensemble who bring expertise and experience to the initial planning stages through to the rehearsing and execution of a performance. They are seasoned accompanists of vocal ensembles and their positive approach produces a secure and fun musical experience for choirs and audience"

Dan Ludford-Thomas – Hackney Singers
"Onyx Brass came to play with Eltham Choral Society for our annual Christmas Concert. The group worked to an extremely high level performing 16th century repertoire and popular carol arrangements with equal proficiency. They were easy to work with, well-organised and friendly, developing a good rapport with the choir who immediately warmed to their wonderful playing and unique brand of humour. They have all asked that they be invited back again next year!"

Peter Asprey – Ealing Choral Society, Henley Choral Society, Eltham Choral Society