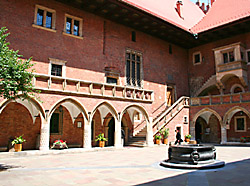 August 2016 sees visits to two festivals for Onyx Brass.
First of all on the 17th
August and we perform at the Collegium Maius, Cracow for the Music in Old Crakow Festival. The concert will take place, weather permitting, in the courtyard of Poland's oldest university and is part of a festival that sees concerts performed throughout many of Crakow's most beautiful locations for the last two weeks of August.
Then on August 21st we make a slightly shorter trip to the Isle of Wight and Northwood House as part of the Classic Isle Festival. Spread over the weekend of 20/21st August and in the grounds of Northwood House, Cowes, both days have a full six hours of music starting each day at 4pm. Sunshine for both please!