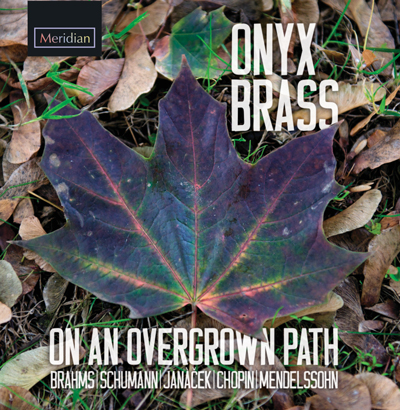 For the first time in the recorded output of Onyx Brass we have undertaken the challenge of a disc of Romantic music. By definition, a large section of the repertoire for brass quintet consists of arrangements of music originally written for other instruments, as this particular combination of instruments as chamber ensemble has only been extant for considerably less than a century. (Although we are doing our best to contribute to an archive of specifically composed repertoire, having commissioned and premièred well over 150 new works in our 21-year existence!)
Some music lends itself very clearly to transcription, whether by convention, historical parallels or cultural acceptability. Romantic piano music (albeit here with a dash of choral music, more familiar turf for brass players in search of material) doesn't obviously fall into any of these camps. We have had, therefore, to tread cautiously and respectfully in our choices of piece (and arranger!). Everything on this disc is in its original key and practically everything is in the original tessitura. The resulting group of pieces have many common emotional threads: nostalgia, wistfulness, sorrow and tranquillity,to name but a few.
The clarity of texture and melodic line in the originals, and the lack of any outrageously pianistic bombast, means that we fervently believe that everything here makes the voyage to brass very successfully, and will hopefully enhance the listener's understanding and appreciation of these extraordinary masterpieces. Solo piano music is, after all, chamber music for the fingers! Also for the first time in our recordings, for the choral arrangements of Brahms, we expand our ensemble to 8 and 9 players.
On an overgrown path is available to buy here.