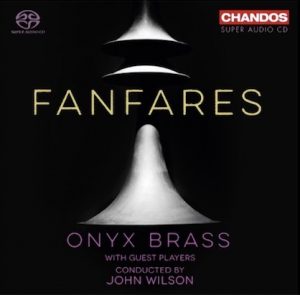 We have two recording releases in 2018 to celebrate our 25th Birthday, and we are pleased to announce that the first one, Fanfares, is available from early March.
Recorded by Chandos in April 2017, this ground breaking recording brings together fanfares from 20th Century British composers which have never been recorded before, and includes many which have been taken directly from the composers' original manuscripts.
Composers on the disc include Sir Malcolm Arnold, Eric Coates, Imogen Holst, Sir Arnold Bax, Sir Granville Bantock, Sir Arthur Bliss, Elisabeth Lutyens, Herbert Howells, Haydn Wood, Albert Ketelbey, Sir Michael Tippett, Sir Hamilton Harty, Joseph Horovitz and Frederic Curzon.
The recording itself was directed by John Wilson, himself an advocate of many of the composers, and who described it as "shatteringly loud in places!" We would like to thank him, the extra players who joined us and all those at Chandos who have created this unique collection of British music.
We would also like to thank the following who made Fanfares possible:
The Herbert Howells Trust, Ambache Charitable Trust, The Malcom Arnold Trust, The RVW Trust, Colin Matthews and the Holst Foundation, Liz Pooley and the Bliss Trust, Martin Lutyens, Tom McCanna, Peter Deverill and Albertketelby.org.uk, The Herbert Howells Trust Andrew Millinger and www.herberthowellssociety.com.
The recording will be available to download or in SA-CD format from 2nd March 2018 and to celebrate its launch we will be giving a concert at Milton Court with students from the Guildhall School of Music and Drama on 15th May.