Tuesday 6th June, is a big day in the Onyx calendar for this year as we start recording the twelve pieces that compose our jazz project. Recorded by NMC Records, and made possible by the contribution of an Open Award from the PRS Foundation, its something that has recently been a labour of love for us and especially Amos ever since he conceived the idea five or so years ago. Here is his description of it below:
"The UK is in the middle of a golden era of compositional brilliance. This is especially evident in the jazz world, and we felt strongly that there was a rich seam of talent to be mined for music for a classical ensemble composed by jazz composers. Over the last three years, therefore, we have undertaken a highly ambitious and self-funded commissioning project, to put together a portfolio of twelve new pieces for brass quintet from the following supremely talented musicians: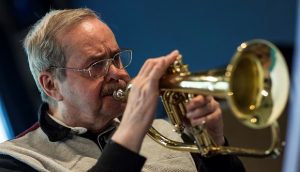 Kenny Wheeler
Kenny Wheeler, Jason Rebello, Gwilym Simcock, Guy Barker, Liam Noble, Mark Nightingale, Trish Clowes, Mike Walker, Laurence Cottle, Mick Foster and David Powell.
Having given "carte blanche" to all these great artists in terms of a compositional brief, and we are absolutely thrilled by the variety, quality, originality and overall cohesion of all these new pieces. All these works are serious, original and pithy, but they are also highly accessible, soulful, elegant and fun.
We are absolutely delighted that they will be recorded for an album to be released on the pioneering NMC label. We are recording this summer for release in 2018 with a launch concert at the Wigmore Hall on June 8th."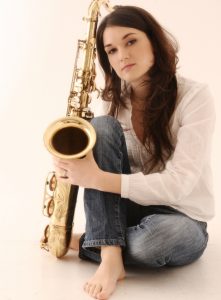 Trish Clowes
Thie project is generously supported by The Open Fund of the PRS for Music Foundation, plus a private donation and the Arts Council England Catalyst Scheme.