March 19, 2020, 7:30 pm
Onyx @ John Armitage Memorial
St Bride's Church, Fleet St, London EC4Y 8AU, UK
A concert presenting the 2020 submissions for the JAM Trust.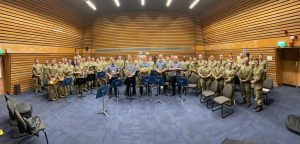 January 6th saw Onyx Brass spend a day working with the brass musicians of the Household Division at Wellington Barracks. Split up into informal discussions and some joint blowing, it gave us a great opportunity for us to get some rehearsal in for our joint concert at the Royal Military Chapel at the Barracks on…
Their virtuosity is absolutely staggering…They are brilliant!
Sarah Walker, Sunday Morning, BBC Radio 3
Mr Nicholas Gryffith, His Galiard by John Downland, transcribed by Timothy Jackson. Taken from the suite, Five Movements from Lachrimae. Recorded at St George's Guildhall, King's Lynn on 27th October 2019.
We are in the process of shooting and uploading a new series of pure and simple videos with a single camera and no editing. One Minute of… will be shot during rehearsals for performances. Our first is a clip of the sublime Bach Chorale Prelude, Nun Komm der Heiden Heiland. Over the coming months more will appear as we tour the country. Also the sheet music and full audio recordings will all be available to stream, purchase and download.
The opening of Entrée de Polimnie by Jean-Philippe Rameau, arranged by David Gordon Shute and Andrew Sutton. Recorded at The MCT, Alleyn's School, London, October 2019